Minecraft Mods
— April 2, 2012, 6:49 PM -
50 views
The settings menu could be opened by pressing "Y", you can also disable this mod if not in use but you must restart your minecraft every time you do.
The hard core mode (makes more misurable than it already had in hard mode)
This CJB mod inclues this hard core mode, technically like hard but you just add a "core" and caused a big difference = =", So I guess this mod will just make life more of a pain. By changing several weird settings you can actually set the difficulty of the "hard core mode" for example you can enable hunger or in cool words, you can create your character a stomach and make them hungry , and deleting your beloved world by your own death. Since you'll be survivin in your own minecraft world (or others), this mod will also enable you to stack your supplies up to 10 which mean more space to spare for your big journey around your world. There is also an option to lock your settings so you won't be whipping your pussy tails and turn off this mode and try to make a todler escaping route.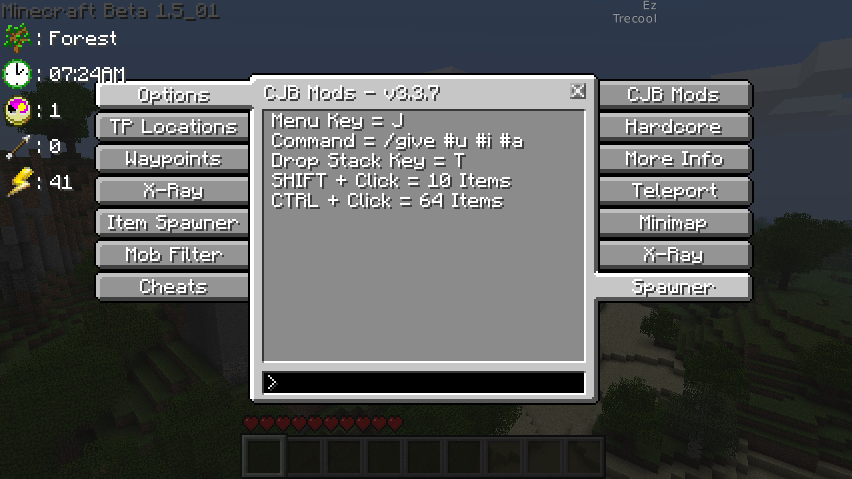 More Information on this mod
This mod will also add a bunch of flies in your screen which will give your lots of information that you *DON'T* actually want to know like your FPS, your light level, and stuff. It do show something you *DO* want to know too like your clock, and your day count (this will actually tell you when you are turning in to a skeleton-like dude)
CJB Mods v5.8.3 for Minecraft 1.2.4 Changelogs:
v5.8.3
Dogs now only spawn in plain biomes
Achievements activated when item are spawned in ItemSpawner
Fixed creating a Map with QuickCraft
When holding the sneak button it disable Pickup Item Distance
Fixed pickup item distance causing duplicate items
Fixed hearing ping sound when you send a message.
When you have show mob health on, it will also show when an animal is ready for breeding.
Changed visuals from show mob health.
Prepared QuickCraft to work in SMP, waiting for a release of new ModLoaderMP by Forge.
Throwing an egg at an animal will catch the animal. (doesn't work on tamed animals)
Teleporting
This just saves up a big chunck of time cause you don't need to run back and forth.
Settings
Minimap
This mod also adds up a minimap, in case you get lose of your journey take a quick peek on your upper right of your screen. The minimaps also have some of there own tricks. There are 4 things to keep in mind:
Show way point indicator and mobs
You can goof around between static map and a rotate map
Moves your map around
Shows player during SMP's.
Cheats
Just to make things way easier, and yes… a godmode, a god that shouldn't fall from heaven though (you still can die by commiting suicide).
Item spawner
Another thing that makes life easier. open the menu by pressing "J"
Mob filters
Yet another thing that make lifes happier, any phopbias?
X-Ray
Hell yeah… the girls bathroom, no no… forget that, technically this just makes you see through clothes, arghh… no no… I mean blocks.
They also add some new stuff in this mod so you should check it out.
Ok. You guys might be asking *alot* about the controls or the "how to do" of the mod, but It's just too damn long for me to type so you can check this out for more… lot more information.
Just something to say.. all mods require the mod loader.
Item Pack:
Wrath of Notch | ID's 3920, 3921
This item allows you to cast Lightning bolts from the sky. each item can be used 10 times and is easily recharged.




Nightvision Goggles | ID 3922
This item allows you to see better in darkness.

Portable Workbench | ID 3923
This item allows you to use to open a Workbench Gui anywhere when you right-click with item in hand.

Pressure Plate Iron | DEFAULT ID 200
This block will only activate when walked over by player.

Pressure Plate Gold | DEFAULT ID 201
This block will only activate when walked over by a creature.

Pressure Plates Reversed | DEFAULT IDS 198 199 202 203
These pressure plates are powered by default, once they are pressed they will deactivate.

Trashcan | DEFAULT ID 204
Dispose your unwanted stuff in here!

Recycler | DEFAULT ID 205
The Recycler will revert your crafted items with no loss of resources.

Mesh Block| DEFAULT ID 206
Used as a floor, Mobs can walk over it, but items will fall through it.

Dog Biscuits | ID 3940
When thrown at a mob, your tamed dogs will attack that mob.

Razor Wind | ID 3924
This weapon will blow mobs/items/arrows backwards with a powerful wind.

Mobster Wand | ID 3925
With this item you can spawn mobs anywhere you want. Hold Shift and right click will open a menu where you can select your desired mob.

Portable furnace | ID 3926
Smelt materials while being on the road.

Iron/Gold/Diamond Sack | ID 3927
Store more items in your inventory.




How to Install CJB Mod for Minecraft 1.2.4
Video:





Showcase
Thanks to MinecraftVidChannel and DT3Gaming
For the nerds and the masters of minecraft.
Do everything normally but just don't install MCPatcher HD fix, if your confused read the "readme"
For the kittens:
Install the ModLoader first at any cause, and don't install the MCpatcherHdfix. (try it every time and i'd advice you to backup).
Press "start" you know the one on your far left bottom screen (the windows sign, if you didn't download any skins(don't read this if it makes you more confused))
You see the "run" icon? press it. you can also search it in the search box though.
Type inside the run "%appdata%"
Drag and drop the "Put in Minecraft Folder" folder inside the .minecraft
Now press .minecraft folder
Go to bin/minefraft.jar
Drag "Put in minecraft.jar" folder inside the folder you just opened
If you failed or didn't understand still, try reading the "readme" or ask quesion in the source bellow
(if you want the x-ray thing download the qo.class or lr.class) = if you have no idea of this thing just don't care.
Download:
http://www.mediafire.com/?wmh5x1zw38myqdd
Requires ModLoader and PlayerAPI 1.0 or Higher
Credits to: CJB
Related posts